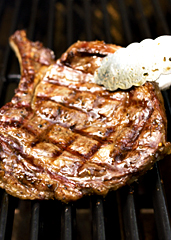 Labor Day. It's coming. The unofficial end of summer, wearing white and, most importantly, barbecue season.
You've got to leave it all on the table. It's statement time.
Your statement: elk steaks.
Welcome to the
Exotic Meat of the Month Club
, a monthly gift of strange and delicious cuts of meat for your eating satisfaction, available now.
If you like keeping to a schedule, but you've also been meaning to try python filets for a while, this is for you. It's a members-only alliance between man and meat that will, every month, send you a different side of the best exotic animals from around the world. (Because you know inferior python when you taste it.)
For acceptance: all you need is a firm commitment to a carnivorous lifestyle. After you sign up, by the end of the month, four servings of glorious protein will arrive at your door, with some key information about where it's from and some recipe ideas (no one expects you to know what to do with 32 ounces of kangaroo). At which point you'll call up a few friends, fire up the grill and enjoy your feast.
A loincloth would not be inappropriate here.