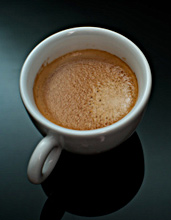 We're not sure what it is—maybe your general élan, maybe your resplendently coiffed head of hair—but people are just inspired to name things after you.
Your hometown elementary school. Not one but two sandwiches at your local deli. And now, finally, a coffee.
Introducing
Dean's Beans Custom Blends
, a magical world of beans where you can have your own coffee named for you, available online now.
This is the stuff you'll want to pair with your own line of philanthropic gourmet swizzle sticks (because Newman never got around to it). A morning pick-me-up mixed with Ethiopian dark roast, maybe a little Peruvian medium roast and, of course... you.
Because you won't put your name on just anything, you'll start by choosing between nine different indigenous beans (or just throw them all in there), including ones from East Timor and Papua New Guinea, in either a French or medium roast. And since they all have different characteristics, you'll want to make sure you get a combination that screams you. You know, something with an intoxicating aroma and experience in the Peruvian Andes.
Flash forward a few days. You're sipping a cup of You: The Coffee, gazing a satisfied gaze out your window into the far distance.
And saying "Ahhhhhh" really, really loudly.