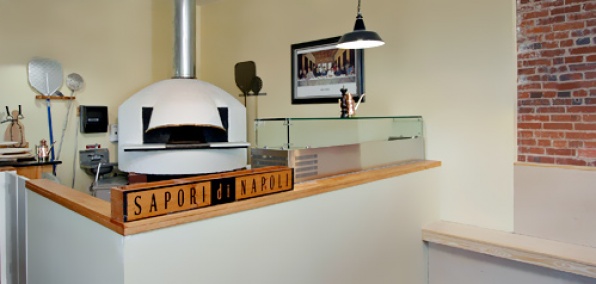 It came from Naples.

Across the high seas it sailed, set on a course for the Port of Savannah before reaching its final destination—the peaceful hamlet of Decatur, Georgia.

Its proportions: goliath. Its heart: forged of stone. Its purpose...

Making you pizza.

That's right, there's a new 5,000-pound Acunto wood-burning pizza oven in town, and it happens to be the heart and soul of Sapori di Napoli, a no-frills Neapolitan pizzeria opening Monday in Decatur.

This is the story of two brothers from Naples, Italy (this is actually the story of you eating pizza, but we'll get back to that). Every Sunday, Ambrogio and Daniele Florio used to gather with their family on the Amalfi coast for a simple, relaxed, come-as-you-are meal.

Apparently it was great. Which brings us back to you.

Because these guys want you to experience that same vibe—only instead of hanging out with family, you'll be loading up on Quattro Stagioni pies and wood-fired bruschetta before heading out into the night.

It's all about the food here (convenient, since they're still waiting on the liquor license). So after placing your order at the counter, know that the pasta for your Tagliatelle Bolognese was made in-house daily. And those tomatoes on your STG pie with smoked mozzarella and speck: shipped in directly from Italy.

Doesn't hurt to have Brick Store as a neighbor, either.