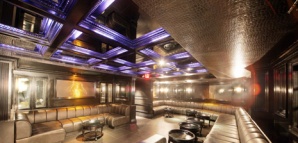 It may not look like much, but sometimes the employees-only door can offer a lot more than just a cigarette break. Especially if you find yourself at
Merkato 55
. Stroll a few stops past the front and you'll notice a door that leads somewhere else entirely…
Welcome to 
Bijoux
, the MPD's new subterranean—or better yet, sub-Saharan—lounge, now open.
This lounge is underground in both senses of the word, so all you'll find out front is an interrogation-room-style, two-way tinted-glass door with a bouncer hiding behind it. If you can entice the door to open, you're in. Just head downstairs, down the kitchen corridor (dodging the Berbere rack of lamb on its way upstairs) and through the door labeled "private."
Inside, you'll find a low-ceilinged, mood-lit paradise, complete with a custom-carved ceiling, black-and-gold posters of a model in the nude and a fog-covered well in the center, in case the journey left you parched. Then again, there's bottle service for that, and a leather banquette in an appropriately shadowy corner that you'll want to seek out with your date later in the evening. As for the clientele, private parties are bringing Jay-Z, Kanye and nightlife marauder Ben Affleck through the kitchen doors, so the guest list may have yet another surprise in store.
As for what's lurking in the well…we'd prefer
not
 to be surprised.