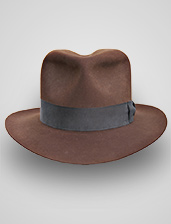 The whip. The leather jacket. The snake pits.
And most importantly, the hat.
But enough about your last dinner with Gaga. Let's talk Indiana Jones.
More specifically,
The
Adventurebilt Hat Co.
,
the German hatters who made Indiana Jones's fedora and would like to make yours, awaiting your email now.
It's just what you need when you're outrunning boulders, stuck in doomed temples or dragging Sean Connery around Europe. (Or, you know, caught in the rain.) We're talking fedoras made with the beaver-fur felt, a white satin lining, and a very lengthy hand-sewing and shaping process. In other words: good old-fashioned German hat-making.
How it'll unfold: soon, you'll start feeling cooler breezes on your head. (It's apparently called "autumn.") And you'll think, "I could really use a hat right about now." Then, you'll email these guys and tell them what you're looking for in your headwear (color, size, brim width, arrow tolerance, the like). Then, well... you're going to have to buy yourself another hat to wear awhile, because this one will take eight to nine months to arrive.
Just enough time to film a sequel.