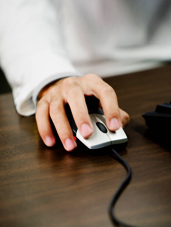 It's not that you don't care. Because you do.
You're just slammed. Between your off-Broadway remake of
The Goonies
and wrestling with your fax machine (in 2011, no less), well... you may have forgotten a couple important gift-giving days here and there. Turns out, Christmas was eight months ago.
Well, you're about to turn over a new leaf—kind of...
Meet
Gift Side Story
, a new website that manages all your gift buying so you don't have to, online now.
It's like having an army of virtual wingmen to remember every single gifting date, so you can focus on the important things, like finding a new Chunk. (Unbelievable—the kid lost weight.)
You'll start by marking all the key dates for the women in your life: birthdays, Valentine's, Doodle's half-birthday. (Your mom loves that damn dog.) Next you'll create a profile for each deserving lady, with her fashion style, if she does yoga, her snack preferences, everything. And finally, put in your budget.
Then, before the date of giving, you'll get an email with your options: say, a Kempton & Darrow bag for your workaholic sis, a new yoga mat for Mom and cookies from Emily's Homemade for the special lady. After you approve the bounty, sit back and let the thank-yous come flooding in.
Doodle will love the yoga mat.