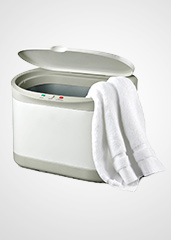 Let's review your in-house spa.
Steam room: check. Fifty-two-degree cold plunge pool: check. Swedish-technique massage room: check. On-staff masseuses who are actually from Sweden: double check.
All that seems to be missing is one of those machines that warms your towels for you...
And here it is: the
Personal Towel Warmer
, a device that's basically like a microwave for your bath towels, available now.
Yes, for years during your spa visits, you've wondered how they get those towels so near-scalding-but-not-quite-since-that-would-be-counterproductive hot. Well, this is how, and now you'll be able to, too.
All you have to do is throw in your chosen linen (as if you have anything other than 100% fine Egyptian cotton touching your naked form), close the lid and hit the white button. In about eight minutes, the warmer cranks up the heat to 135 degrees, and keeps it steady for 20 minutes (so it'll stay warm even through your 19-minute, post-shower Cinnamon Toast Crunch session).
And should you fancy a barbershop-esque moist hot towel wrap after one of your whiskey odysseys through the city, just lightly soak a towel in cool water before tossing it in.
No, it won't reheat last night's Chinese takeout.