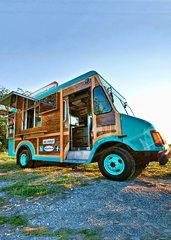 Sure, you've encountered some unforeseen combinations in your day—Bush–Quayle, Eminem–Elton John, Tiger Woods–diner waitress.
But we still think surfboards and Spam rates pretty high.
So light your tiki torches and set out to find the
Hula Girl Truck
, now rolling on the streets of downtown to bring a little
aloha
(and canned, processed ham) to your lunching.
Basically, if the teenage Obama had run a food truck on the beaches of Oahu, it would look something like this. In fact, an Oahu native does run it (that would be the Hula Girl). To find it, you can follow her on
Twitter
, or just check the weekly schedule online.
Not that the truck is hard to spot: a former government van, it's been tricked out to resemble a 1960s woody, complete with surfboards on the roof, surf videos on the flat-screen and Dick Dale coming out of the speakers.
When you see it, you'll want to recruit a Hawaiian-minded colleague (yes, you can call him Danno) and start winding your way through
a menu that's heavy on the teriyaki
—skirt steak, chicken breast or firm tofu (so much better than limp tofu).
But the real star of the show is pig, which you can get either as
Kalua Pork
(slow-braised for 48 hours in banana leaves) or
Spam Musubi
—grilled Spam wrapped in nori and sticky rice, sushi-style.
We hear it's Laird Hamilton's favorite.