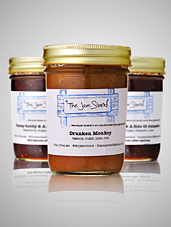 It doesn't get any bigger than this.
The jam world is about to be shaken to its very core.
Okay, it gets a lot bigger than this. But still: the boozy jam era has arrived...
Say hello to
The Jam Stand
, a jam maker now mixing spreadable custom concoctions of fruits, spices and the good stuff of your choice, available now exclusively through UD Perks.
As fruit-preserve-related innovations often do, it started with two lovely ladies from Brooklyn, who left their business and marketing gigs for a higher calling: making you jam. The results: sweet, sweet nectar made from the best in-season strawberries, peaches and more from the produce gods at Red Jacket Orchards.
And then they brought rum into the equation. Which, as always, is where you come in.
You'll choose a fruit, a spice and an alcohol from a lovingly selected list of ingredients. For example: plum, mint and bourbon. Then, for good measure, they'll throw in a jar apiece of sugared-banana-rum-lime and raspberry-jalapeño. This means two things: one, your dream of spreading plummed mint julep on your blue-ribbon-winning biscuits is as good as true. Two: Christmas shopping for Grandma is already handled.
Then, in a couple weeks, you'll receive a box with a handwritten note and your jams nestled in hay.
You may want to stock up on toast.