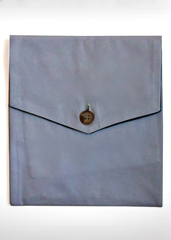 Stealing billions can have some dire consequences:
A century of hard time. A $17 billion fine. Losing the trust of Kevin Bacon.
But they save the worst for your pants...
Introducing the
Bernie Madoff iPad Cover
, tablet holders made from the disgraced pants of one of the great scoundrels of our time, available now.
Yes, you can now shield your technology with the actual remnants of Bernie's actual, thoroughly dry-cleaned trousers.
You see, after Bernie was given a nice orange jumpsuit for the rest of his days, the US Marshals seized and sold the rest of his clothes. So John Vaccaro of Frederick James—a true visionary in the field of custom iPad cover design—had the foresight (and the healthy appreciation for ironic justice) to buy them, cut them up and give them a second chance at an honest life.
As you might imagine, billions of ill-gotten dollars can buy a pretty nice pair of trousers. So on top of being game-worn by Madoff, they've also been designed by the likes of Armani and Ralph Lauren. So the next time you need to crunch some numbers, display your touchscreen DJ skills or just sling some
Angry Birds
, you'll dig your tablet out of Bern's navy sailcloth slacks and get down to business.
Of the multimedia or Ponzi variety.