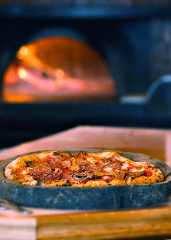 The Italians just get it.
Fashion. Pizza. Gelato. Monica Bellucci. And today, we're bringing them all to you...
Actually, correction: just pizza. But still.
Meet
Dough Pizzeria Napoletana
, a new Naples-style pizza joint, opening this Tuesday.
First, some background. You may have tried the place's first location in San Antonio, where the guys behind it honed the craft they perfected in Italy. (They earned the country's certification for serving Italian pies—basically, the black belt of dough tossing.) And after a cameo on
Diners, Drive-Ins and Dives
, they decided they're ready for the Big D. And more importantly, your exacting demands for margherita pizza.
Inside, you'll find a no-frills spot with concrete floors, black tabletops and purple walls. But you're here for one thing: pizza. The oven's a massive stone dome in the back that was built in Naples. This beauty will be cranking out your arugula and prosciutto pie in under 90 seconds.
You'll want to try a seat at the pizza bar—your front-row spot is as close as a non-pizzaiolo can get to the action. And by action we mean 800-degree flames. There's also a mozzarella bar, where after dinner you'll pair Italian wines with everything from burrata and fior di latte cheeses to the occasional Nutella panini.
Nothing pairs with Nutella like vino.