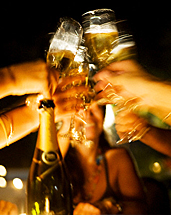 Brunch.
It's magnificent in every way.
You want to surround yourself with it. Bathe in it. Name it.
Well, we hate to say this, but here goes: one of your favorite hidden brunch spots is cheating on you.
The name of this cruel mistress: dinner.
So yeah, not so bad after all. Welcome to the
Thursday Night Supperclub
at Sun in My Belly, a new weekly conclave involving four courses of decidedly
non-brunchy foodstuffs
and BYO bottle popping with like-minded strangers, taking reservations now for this Thursday.
And just so we're all on the same page here, yes, this is a once-weekly supper club at a place known mostly for its honey-glazed bacon and challah french toast. But it's okay... they've been in the catering game for a while, so the latter half of your dining repertoire is also in good hands.
Come Thursday, you'll pack up that bottle of '45 Mouton (and someone to appreciate it with) and head out to Kirkwood. At which point your host for the evening, Max, will offer you a cocktail, introduce you to the band (that reminds us, there's a band) and get you situated at your table.
Pork carnitas with grilled peaches will fly from the kitchen. Green chili grits with vermouth-braised pole beans will appear out of thin air. And peach panna cotta will rain from the heavens.
It's that dramatic. Really.