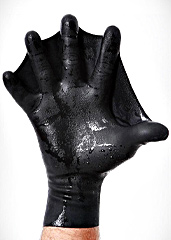 Your swimming prowess, like all your other prowesses, is strong.
You regularly draw crowds at your morning lap swim. Phelps calls for pointers on his stroke. You're already on your 27th silver Speedo.
But there's something missing from your amphibious arsenal. Namely, gloves that will make you half-man, half-shark...
Which brings us to
Darkfin Gloves
, a revolutionary pair of rubber mitts that transform your hands into fins, available online now.
Sure, at first glance these look like something Bruce Wayne would wear to the pool. (Dude's been known to blow off steam with a few freestyle laps.) But stick with us. Once you slip this wave-slicing weaponry on, you'll realize the lightweight latex webbing allows you to move through the water with the speed and agility of an aquatic dynamo (or... merman).
The benefits: you're able to tread water using less energy and build upper-body strength by increasing your hand's surface area by 70%. The bonus benefits: no loss of dexterity—meaning, you'll still be able to fasten (or unfasten) your beach bunny's bikini while wearing these.
At that point, you should probably take off the gloves.