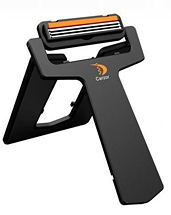 You're a mover.
A shaker.
One who is constantly on the go. Getting things done.
So it's understandable if moments arise when you simply didn't have a chance to shave (which reminds you: it's time to hire a new on-site master barber).
And when that happens, you'll be glad you have this: the
Carzor
, a clutch new addition to your mobile grooming arsenal, available online now.
So picture it: it's the morning of the big meeting, and you're running late. Maybe because you were up late the previous night finishing that proposal, or maybe because you succumbed to your buddy's proposal of "tequila bar Tuesdays."
But either way—you're late. On your way out the door, you realize that you have to choose between a crisply pressed shirt or the reduction of your five o'clock shadow (at 8:45am, no less).
Starting now, you can get those crease lines right, because you'll just pull out the credit-card-sized Carzor from your wallet and shave during your commute. The handle folds out and attaches to the blades, and the frame doubles as a mirror—making en route stubble destruction a far easier thing (still, don't use it while driving).
The blades even come scented, so you can smell like the ocean, mint, oranges or lemons.
We're assuming the ocean scent doesn't come with a saltwater finish.