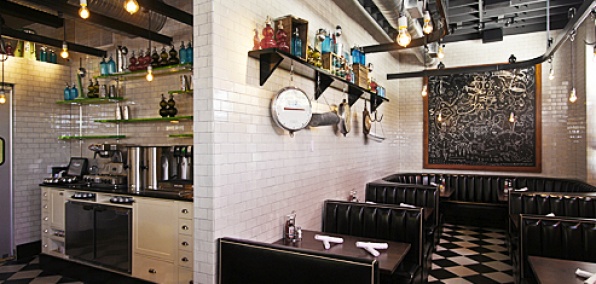 When you walk into a burger joint, you expect certain things.
Among them: burgers.
Soon to be among them: black leather banquettes. Candlelight. Eighty beers. Sushi.
And in case you missed it... sushi.
Prepare to set your gaze upon
5 Napkin Burger
, the Manhattan-based home of
lobster roll sliders
, shrimp tempura maki rolls and, yes, the occasional melt-in-your-mouth burger, officially opening a week from today in Midtown.
Well, there it is... the word "burger." Just sitting right in the name. Can't miss it. And they have those—but somehow, as you weave your way through subway-tiled walls, black leather booths, Edison bulbs and meat hooks hanging from the ceiling (there's a bit of a meatpacking facility theme going on here), you begin to smell a curveball.
Or maybe that's just the
Deep Fried Pickles & Pastrami
waiting for you at the bar. (Hint: it's that massive black thing with all the stools and about 40 bourbons behind it.) Which is also where you'll be subjected to further distraction by way of those aforementioned 80 beers like Southern Tier Iniquity and Chimay Blue.
But on to the matter at hand: that burger situation. To get to the bottom of it, you'll usher your entourage to the huge wraparound booth in the back corner. Your server will suggest the pork taquitos. Perhaps some
Grilled Fish Tacos
with roasted pineapple salsa and chipotle crema. Or maybe the sushi platter with...
Dammit.