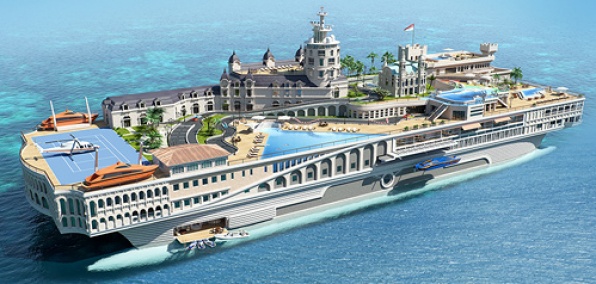 It might not be today. It might not be tomorrow.

But someday, you may need to get off the grid. As in, international-waters-level off the grid.

And when that day comes, you'll want a yacht. With a go-kart track. That you designed yourself...

Introducing Yacht Island Design, a firm specializing in gloriously ridiculous custom yachts, accepting concept proposals now.

Now, to be clear: these guys haven't actually built anything yet. But still. They're already in touch with the shipbuilders and race-track artisans you'll need when the big day comes.

If you're pressed for time, go with a predesigned concept—like the 500-foot floating reproduction of Monaco. It includes a replica of the Grand Prix track built for go-karts. (You can still wear your F1 suit.)

But let's say you were bequeathed an island off the Arabian Peninsula and want a suitably indulgent way to get there. (Your keen instincts on oil futures earned you a lot of friends.) You'll share your fantasy of taking a volcano or Machu Picchu replica around the seven seas. Then, you'll talk details: how many rooms, how many pools, how many private courtyards. (You know, to get away from getting away from it all.)

After that, they'll draw up blueprints, sketches—yacht-planning stuff. Once you're satisfied with the authenticity of your onboard St. Basil's Cathedral/international airport, they'll negotiate with a shipyard to have it built.

They'll never spot you.