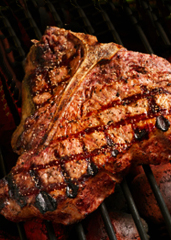 You've got nothing against menus.
They're useful tools for when you'd like to be less hungry.
But at the same time, there's a fundamental flaw with most of them...
An unforgivable lack of A5 Kobe beef and bone-in porterhouses the size of your head.
(Unless you have a small head, in which case, bad example.)
Enter
Rare Cuts
, a rotating cast of off-menu, request-only oddities of the red meat persuasion, available now at Park 75 in the Four Seasons.
Basically, the fair and decent chefs at Park 75 decided it's only right to offer you a different cut of semi-impossible-to-find red meat each week. Again—basically. But as you delve deeper into this seemingly innocent scenario, things get a bit more interesting.
So on the heels of your karaoke happy hour/ad hoc talent acquisitions committee meeting with Mr. Takahashi, you'll both head to Park 75, carve out an adequate piece of real estate and requisition the first bottle of red. At some point, a server will approach the table with menus. Disregard this gesture.
Instead, stare him dead in the face and say the following: "Meat." Which will serve as his cue to bring you whichever meat-centric anomaly they're doling out that night, from 35 ounces of bison ribs to mesquite-smoked buffalo tenderloin to thick cuts of the always-elusive A5 Japanese Kobe beef.
It's the Bigfoot of steak.