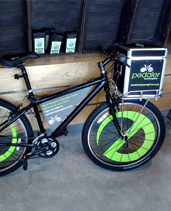 Between frantically liquidating all your stocks, attempting to elect the next president and trying to bring a professional ping-pong franchise to DC, you're a little overworked and more than a little tired.
So overworked and tired, you barely get around to stocking up on coffee.
Which brings us to a bike.
Say hello to
Pedaler
, a bike service from Peregrine Espresso, taking memberships now to start delivering all the coffee you could ever want.
By now, you may have been to Peregrine's Capitol Hill or Logan stores, so you know what they're all about: a really fanatical devotion to microbrew beans, poured over and French pressed. And if you live across several neighborhoods near them, that's exactly what you'll get, dropped off by a guy on a tricked-out black and green bike.
Every Thursday (or as often as you like), you'll get
a new bag to your specs
. If you like to do your own grinding, opt for a bag of single-origin beans. Or for those rough weeks, order up fully ground espresso. And when your parents visit, add a bag of decaf to your order.
Soon, you'll be able to manage the whole thing online, and with your delivery, you'll get a coffee biography and tasting notes.
And hopefully no chain grease.