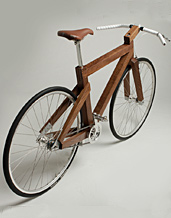 Please, sit down.
We hate to see your impeccable taste in furniture be wasted even for a second. In fact, it's a shame your furniture has to be cooped up in this fine warm weather while you're out having fun.
Problem solved: the
Wooden Bicycle
, a handsome bike that's pretty much exactly what it sounds like, available for preorder now.
This two-wheeler comes from the mind of a Chicago furniture maker—and former Evanston bike shop manager—who could not put the alluring thought of crankshafts out of his mind while lathing wine cabinets for North Shore mansions.
So he started combining his passions. The centerpiece is the varnished, solid black walnut frame, where you'd usually find things like lightweight metal alloys. (So, yes, it's slightly heavier than your mountain bike, but nothing you can't handle.)
Plus, with the very best leather seats, spokes, tires, chains, sprockets and everything else you need, he's created what amounts to the bicycle version of a classic Eames chair—only completely street legal.
There are a few drawbacks, of course. If you lock it to a fence post while you gallivant on the beach, it's not your bike chain thieves will saw through. And it's only a single speed, so you're not going to enter this in the Tour de France.
Until they give trophies for style.