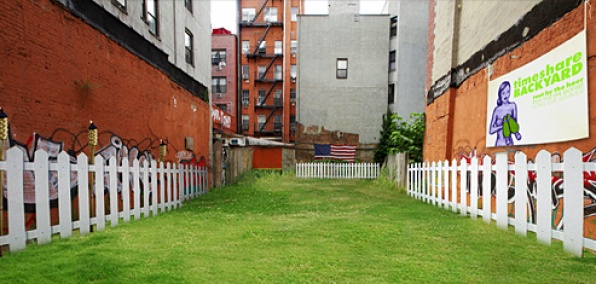 Living in the city during the summer has its distinct... disadvantages.

For one, not enough water-gun fights.

For another, there's a severe lack of Slip 'N Slides.

And to be honest, you're not sure you can take it anymore.

Behold Timeshare Backyard, a lush, grass-covered valley/vacant lot on Ludlow Street that's available by the hour for insanely customizable lawn parties, accepting renter requests now.

For those keeping score, adding this picket-fenced piece of property to your Saturday afternoons puts you about a third of the way closer to officially living the American DreamTM. Still missing: the 2.5 kids.

So say you're looking to throw a backyard barbecue pool party. But you're missing several key ingredients—namely, the backyard, the barbecue and the pool. Simply email the leasing agent, reserve an open time slot, and you and up to 30 friends are free to use the space however you see fit.

Of course, part-time patch-of-land ownership has its privileges, including, but not limited to: hammocks, hula hoops, garden hoses, girls in white tank tops to spray with said garden hoses, trampolines, snow machines, kegs of beer, Polaroid cameras with film packs, Super Soakers... and a boom box with early '90s summer mixtapes.

Whew, for a second there you thought you'd have to bring your own snow machine.