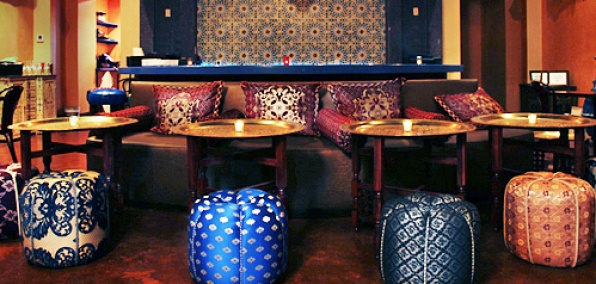 Sultans.

Generally speaking, they had it pretty good. The harems, the magic lamps, the plush carpeting.

And, of course, the shrimp kebabs.

Which brings us to Baboush, a glowing temple of Aegean curiosities and falafel tucked away in the West Village, opening this weekend.

You've no doubt had lamb skewers at this place's Victory Park sister restaurant, Medina. This place is like that but... different.

Inside, it looks like Aladdin's bachelor pad (assuming he opted for the single life in Uptown): gold lanterns hanging from the ceiling, colorful stools pulled straight from a Turkish palace and what looks like retired magic carpets covering the walls.

You'll begin by grabbing some wine (and for your date, an apricot martini) at the blue tiled bar. Then settle into a banquette in the low-lit corner. You'll order up (and kindly pass) some chicken bastilla (with orange blossom and a yogurt sauce) or kefta kebabs (basically meatballs packed with mint and cilantro). And then, post-kebab, you'll head to the patio for a mini chocolate platter and some vino.

Sultans loved patios, too.