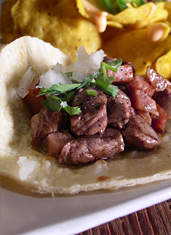 In the spirit of easing your return to the working week, we'll keep this simple:
Pork. From a truck. Now.
Behold
The Pork Shop
, the city's first completely porcine food truck, now rolling through the streets spreading pig-related cheer.
On the outside of this thing: a minimalist black facade with simple white lettering. On the inside: an orgy of sizzling, lard-dripping goodness. You'll keep up with them via
Facebook
, and find them at food truck rallies and regular appearances outside the CrossFit gym in South Miami. (Nothing finishes off a workout like pulled pork.)
The menu is concise: five pork-filled dishes and one pork-free dessert. So for lunch:
Spicy Pork Tacos
or
Cheddar Biscuit Sliders
, either one stuffed with pulled pork. Dinner can be a hearty porchetta sandwich, and late at night,
Chef Ditti's Poutine
—steak fries topped with cheddar, pork gravy and bacon bits—should fortify you for a long evening out. And for those moments when you need to go whole hog, there's
Chef Ditti's Dirty Pig Combo
, which combines chicharrónes with the aforementioned poutine dish.
Okay, it's not the whole hog, but it's close.