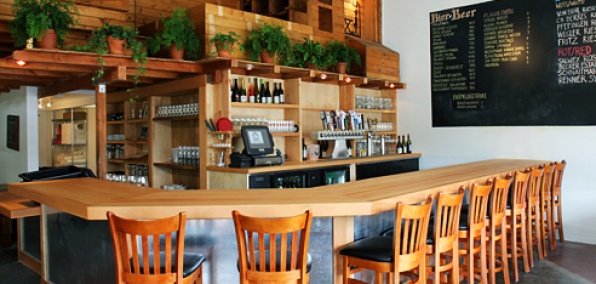 Life is full of difficult decisions.
Like, maybe you should spend your Friday surrounded by German sausages, beer and blonde women who casually spout phrases like "auf Wiedersehen." On the other hand, you really want to just hang out with your dog.
These are the things that keep you up at night.
Allow us to help you get some rest—and some beer. Introducing
Wirtshaus
, a new sausage and beer hall that will also serve pretzels to your pup, officially debuting Friday on La Brea.
Now, you could be forgiven if a stroll down La Brea didn't used to remind you of your last trip to Berlin. (The less said about the missing lederhosen, the better.) But as of this weekend, that all changes when you grab a table on the patio here with your friends of the two- and four-legged variety.
The owners are actual Germans, and their collective mission in life is to get you
sausage, schnitzel, potato pancakes
and about 30 German (okay, and Austrian) beers, most on tap. For dessert:
Spaghettieis
, which is ice cream that looks like spaghetti. Because nothing cools you down like German ice cream pasta.
And yes, assuming you're outside, your dog is welcome to order a pretzel of his own from the separate menu specifically for dogs.
Well, you'll probably have to order for him.