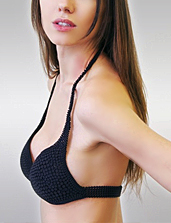 Here are three indisputable facts about lasers:
1: They're very cool.
2: They can be deadly when put in the wrong hands.
3: Other than surgery, telemetry, CDs, bar codes, communication, pointers and hair removal... they're basically worthless.
So, finally, a practical use: the
N12 Bikini
, the sexiest two-piece swimsuit ever made with high-powered lasers beams, available now.
This modern miracle of applied physics arrives by way of a pair of fashion designers who look at AutoCAD the way others look at a sewing machine. Using complex 3D modeling techniques, a keen sensitivity to the female form and a big frickin' laser gun, they've managed to create the shapeliest beachwear anyone can imagine. Okay, so maybe you imagined it.
From a distance, it looks just like a lacy bikini. But go ahead, get a little closer—this is for science, after all. You'll see what looks like woven geometric patterns all cut from a single sheet of plastic.
Oh, that's right. This entire thing is made from plastic. Quirky, we know. Other quirks: the bottoms are sold separately and the prices range by the amount of material used. In other words, smaller cups are actually less expensive than larger ones.
Yes, a volume discount.