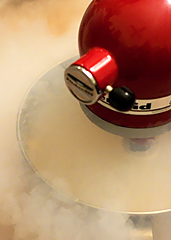 So it's 95 again. We're not here to belabor the point.
We are here to point you in the direction of relief. About 400 degrees in the other direction, to be exact.
Presenting
Liquid Nitrogen Ice Cream
, available now from a local outfit called Sweet Freeze to add a little drama—in the form of billowing clouds of chilly gas—to your next party.
If you paid attention in science class, you'll get the gist here immediately: a Mr. Wizard–meets–
Iron Chef
mashup
where they chill ice cream base almost instantly via a blast of minus-320-degree liquid nitrogen (and a vapor cloud that looks like the kind of thing LeBron James would emerge from).
Now, these folks can usually be found behind a kiosk at the Convention Center. But since you only attend so many dental trade shows a year, you'll be happy to know that they've gone mobile, and will now bring their massive tank o' cold to your next rooftop soiree or quarterly status meeting in Conference Room B.
You can pick the flavors—anything from butter pecan with pure maple syrup to more adventurous selections like Jack Daniel's chocolate (indeed, nitrogen is up to the task of freezing booze)—and they'll mix them up on the spot.
Or you can place a special order—from 12-ounce cups to a three-gallon tub—for pickup or delivery.
You can provide your own cloud.