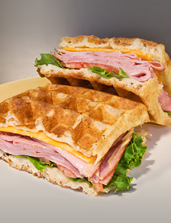 This week's already shaping up to be a good one. Your Christmas in July gifts: already paid huge dividends. Your thinly veiled novel on congressional dysfunction got picked up by a publisher (working title: 
They Call Me Boehner
).
And yet, we couldn't help but notice a conspicuous lack of waffles.
Coming soon to remedy that glaring deficiency:
Wicked Waffle
, expected to open Monday to make sure food with little square depressions is never far away.
Basically, this little orange-and-white quick-serve counter highlights
everything good that's currently happening in the wide world of waffles
. Except syrup, that is. We're dealing with waffle purists here.
Drop by early to fuel up before that big meeting and they'll hit you up with some
Waffle French Toast
or waffle sandwiches with Nova salmon or bacon, egg and cheese. Come back at lunch for soup-and-waffle combos and savory sandwiches like
Wasabi Portabello Mushroom
and—you knew this was coming—the grilled cheese waffle.
And yes, you can get your afternoon sugar fix here as well, in the form of sweet waffles with ice cream or
Waffle Pudding
with strawberry sauce.
Now about that waffle-knit tie of yours.