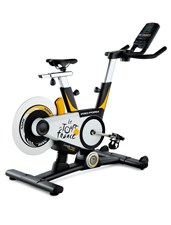 Right now, a few hundred cyclists are peddling their way through the French countryside, dodging elbowy rivals, overeager spectators and bloodthirsty camera cars.
You, however, are not.
Yet.
Introducing the
Pro-Form Tour de France
, a programmable stationary bike that lets you tackle your own virtual bicycle trek, available now.
Again, this is the nonmobile kind of bike—but one that you can program, so you're riding over the same slopes, up the same hills and against the same wind resistance you'd face in the Tour de France.
So when you start training for the race (or maybe just the first few stages of the race), you'll set your route on the onboard computer and take a dry run through every climb in the Tour. Whenever Google Maps says the road pitches upward, the bike will increase the resistance and incline the frame to simulate that hill; when you're heading downhill, it'll tilt back down. For extra accuracy, you can enter in your height and have the computer calculate your wind drag. (For extra-extra accuracy, don a yellow jersey.)
And if you feel the urge to recreate another route, you can program it with the aforementioned Google Maps—say a favorite path from your old neighborhood, a trip through the Himalayas or just that sweet hill from when you were nine years old.
Notably absent: your neighbor's rottweiler.