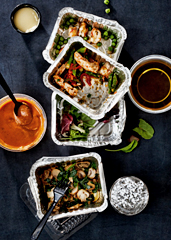 Lunch generally goes one of two ways:
1. Staring contest with the Stockholm clients. Baked Alaska. Deal, sealed.
2. Oops, forgot to have lunch.
Sounds like you're covered on #1. About that oops part, though...
Introducing
ZeroCater
, a lunch middleman that has exclusive arrangements with otherwise out-of-reach restaurants to bring you a recurring allotment of midday deliciousness, taking orders now.
All you have to do is set up your account, then tell them which days and times you'll need lunch (perhaps a rotation of every Monday through Wednesday), how many people are eating and any dietary requirements (they've been known to accommodate bacon-only diets).
Then, using proprietary software to customize your preferences, they'll create orders with various restaurants—nearly 50 eateries in the city, from Queen's Louisiana Po-Boy Café and Kasa to Rosamunde and Little Star Pizza—and rotate them in and out accordingly.
To make things easy, ZeroCater has default orders at each restaurant (say, one of each po'boy from Queen's menu and double orders of hushpuppies) that they'll email you in case you want to change things (like add a few extra catfish po'boys).
Then, after each delivery, you can rate your meals like you would a Netflix movie or a song on Pandora, and that software will rank your preferences and put your highest-rated eateries on top so you'll get deliveries from them more often.
Leaving you time to hone your staring.