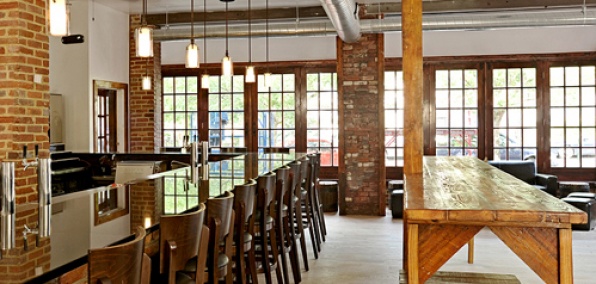 Right about now, you could use an escape from these steamy enclaves.
Option 1: a well-appointed igloo in Greenland; or failing that,
Option 2: a new haven of cool-to-the-touch brick and cooler-to-the-touch craft beer.
Introducing
Shaw's Tavern
, expected to open early next week to make you forget the outside world (and maybe even the modern world).
This is the kind of place where U.S. Grant would have enjoyed a tipple (or seven) while in town to bring Abe up to speed. You'll sit inside a former liquor store and reggae shop, stripped down to its original brick walls, worn wood beams and giant picture windows, and adorned with Civil War–era prints and artifacts.
If you're catching up with a couple of old college buddies, take a seat on one of the leather couches next to an old factory cart and order up pints like Victory HopDevil from their eight rotating taps. From the wood-burning oven:
Spinach Potato Olive Oil Pizza
. Yes, you can add an egg. And, yes, you should.
But if it's date night, you'll want to opt for one of the four seats overlooking the open kitchen and let the chef (a vet of the Inn at Little Washington and Ruppert's) send you
plates of Flat Iron Steak with Yorkshire Pudding
and
Soft-Shell Crabs with Leek, Beet and Sorrel Salad
.
Food service on the sidewalk café should come shortly, but beyond that, you can look forward to the opening of the third-floor roof deck in autumn.
Which gives you time to grow that Grant-like beard.