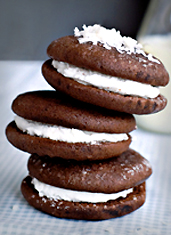 Sometimes, a cupcake place is just a cupcake place.
But sometimes, on rare occasions, a cupcake place will surprise you—like by having a tiny woman jump out of a tiny cake.
Anyway, behold
Drunken Whoopie Pies
, an off-the-menu coupling of childhood sweets with your favorite cocktails, available now at Sweetcakes on the Upper East Side.
At first glance, Sweetcakes looks like your typical mod white-on-white bakery, serving up decorated cookies and treats. But on closer inspection, you'll find that they've got a robust selection of liquor-spiked cakes (10 to be exact). And they're willing to tweak those recipes to concoct a cakey sandwich cookie with just the right booze-to-batter kick.
Herewith, a few favorites:
Mojito:
Vanilla and lime cakes spiked with rum sandwiched around Bacardi buttercream. It's like a bite of cake chased with a shot.

That's Amore:
Vanilla bean or chocolate cake soaked in Amaretto Disaronno and filled with mascarpone cream doused with amaretto. Nothing says summer like almond liqueur.

The Diddy:
An homage to P., using fresh raspberries and berry-flavored vodka. Hey, the man knows his fruit-infused spirits.
What you'll need to do: give them a day's notice that you'll be coming in and what flavor you want. Otherwise, there's no minimum or maximum—you can get one whoopie pie or three dozen whoopie pies.
Depending on the scope of your next board meeting.