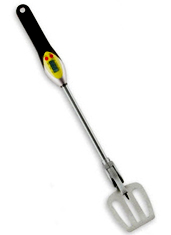 When it comes to the grill, you can never be too prepared.
Extra charcoal. Plenty of lighter fluid. A huge cow roaming your lawn as a backup.
And, of course, a strong spatula. That's also a thermometer.
Introducing
Bar B Claw Grill Spatula Meat Thermometer
, the holy union of thermometer and spatula in one device, available now.
This is the biggest innovation in spatula technology since the rubber grip—thank you, science.
So this weekend, you'll be gearing up for your annual grill-out and beanbag-tossing tournament. Your team's in the first match, but there's a problem—you can't leave the porterhouses to just anyone.
So you'll toss on the steaks and grab this spatula. As you warm up your throwing arm, you'll program the LCD screen on the handle for the ideal cooking temperature. As the game kicks off, you'll be tossing bags with one hand while flipping steaks and checking the temperature with the other. When your steak reaches the perfect level of charred bliss, you'll hear an alert. At which point, you'll have your arm free for other things.
Like high-fiving your fans.