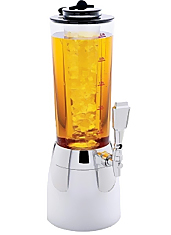 We can see it now.
The crowds inching toward your grill. The aroma of your legendary sausages entrancing everyone.
And just then, you encounter what some consider the defining plague of our generation—the lukewarm beer.
Well, we've got some potentially life-altering news. Hint: it involves ice.
Behold the
On-Ice Beer Dispenser
, an 80-ounce tap that cools your adult beverages without watering them down, available now.
The setup: you've poured beer into something before. You've also scooped ice into things once or twice. (At the very least, you've seen it done.) If you can pull a tap handle and if you can fill a glass until someone says "when," you've pretty much got it down.
So imagine an evening like tonight. As usual, you're discussing life, love and the budget deficit with Blake Lively at your weekly "Issues and Beer" party. Normally, the conversation dies down right about the time you both realize your mugs have gone warm. But on this night, you'll casually step over to your new inanimate bartender and tilt your glass for a perfect pour of chilled weekend.
It's only a matter of time before Blake outlines her debt ceiling compromise.