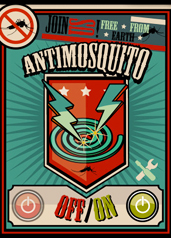 It happens almost every trip to Yosemite.
You stare at your phone and say, "Man... that would make one mean bug zapper."
Today, your wish has been answered. Kind of.
Introducing
AntiMosquito Fumigator
, an iPhone app that repels mosquitoes through ultrasound and science, available now.
Think of this as OFF, but minus the spraying (and plus the option of playing
Angry Birds
).
So we can see it now. You're on your annual camping trip in Hill Country with your college buddies and Bono. (That guy loves your s'mores.)
After prepping the tent and starting the campfire, you'll be about to sit down for a game of poker when there's a problem: Bono forgot the bug spray. (And the inflatable espresso bar, but that's another story.)
So you'll jump online and download this. (Well, assuming you can get reception.) You'll have two options for fighting mosquitoes: "open air" (which sounds like an army of crickets) and "ultrasound" (silent). Set the timer for an hour, and soon you'll be staring into Bono's camping shades with a straight flush... all without a single mosquito disrupting your poker face.
P-p-p-poker face.