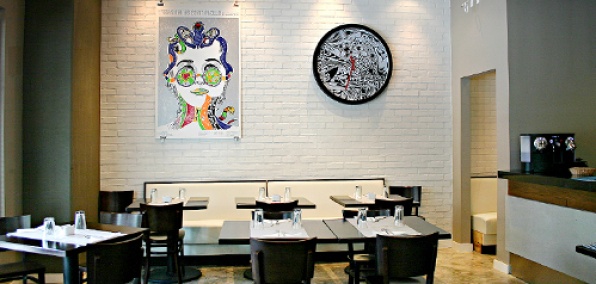 So, here we are—the middle of another long week. Actually, that's not true. It's a short week. But still.

You could use a little something to power you through until the weekend.

Cured meat and Italian wine should do.

Which brings us to Palau Café, a tiny cove of Mediterranean swagger, now open for all your pasta-twirling and chianti-sipping needs in Brickell.

The backstory is simple. Italian guy opens bistro in Nice. (No one loves Italian like the French.) Guy heads for America, opens sister restaurant here, lines the walls with wine from Italy, France and Israel, and fills the menu with voluptuous Italian staples. And voilà—you have an idea of the date-friendly proceedings here.

During the day, you'll bring clients here for leisurely lunches of prosciutto paninis and platters of carpaccio, created at the slicing station at the center of the bar. (You'll notice the retro hand-cranked slicer holding court on the counter.)

But in the evenings, you and your date will claim a quiet spot on a cushy banquette under a poster for a French sculptress's art exhibit. Start your after-hours tête-à-tête with glasses of Venetian prosecco, then on to Caesar salad topped with pancetta and grilled steak with red wine mushroom cream and Spaghetti Palau tossed with shrimp and a splash of vodka.

Sometimes, even pasta needs to take the edge off.