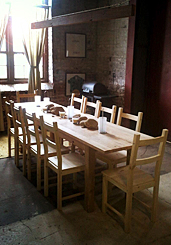 Well, that was foggy.
And seeing as how you've emerged from your three-day pilgrimage (relatively) intact, you may need a hiatus.
We're thinking someplace quiet. Hidden, even.
It also wouldn't hurt to have a chef floating around doling out slow-cooked pork shoulder and tequila...
Welcome to
PushStart Kitchen
, a new underground dinner party quietly holding court behind the enigmatic walls of the Goat Farm, accepting your humble request for inclusion now.
Your hosts/chefs for the evening, Zach and Cristina, just got back from living in Costa Rica. And turns out, they learned a few things while they were there. Things about chicharrónes. About
Roasted Corn Velouté
and
Ham Hock & Collard Empanadas
(yes, they're still from the South). And now, they want to bring you in on it.
But first,
hit their blog
and request to be added to the invite list. Keep a watchful eye for the latest dinner post and, when it's up, RSVP immediately—there's only room for 10.
When the time comes (pretty much every Saturday), you and your date will navigate the gravel-strewn alleyways and vine-covered ruins of the Goat Farm until you stumble upon a small, candlelit dining room. In the center, a wooden table set for 10. Wine will flow. Ricotta dumplings with cilantro pistou will be passed. And strangers will become your temporary partners in covert-dining crime.
Or you can just meet some new people.