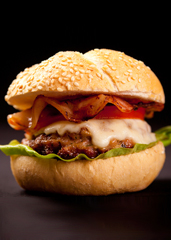 After three days and three nights of steaks, ribs and dogs roasted over the dying embers of your fireworks display, it seems you've taken this whole grilling thing about as far as it can go.
Which means you may need to turn elsewhere. Someplace where exotic things are happening in the world of meat.
Yes, we know of such a place. Welcome to
Wild Wednesdays at Thunder Burger & Bar
, now in full swing to let you try a different unfamiliar meat—most in familiar burger form—every week.
This is the kind of bar food that Teddy Roosevelt would have enjoyed—although, to be fair, T.R. would have tracked and killed it himself.
Here's what's going to happen: tomorrow evening, you'll be walking down M Street when the unmistakable smell of grilled ostrich (okay, so maybe it's mistakable) will hit you from Georgetown's only rock-and-roll-themed burger and beer bar. Your curiosity piqued, you'll enter to feast on
Half-Pound Ostrich Burgers with Fig and Elderflower Jam
.
And there you'll return every Wednesday, as the chef rolls out more bounty sourced from an exotic animal farm in California. Next week will be kangaroo (possibly in slider form), and coming weeks might bring rattlesnake fritters, antelope sausage or bear meatballs.
Yes, they have ketchup.