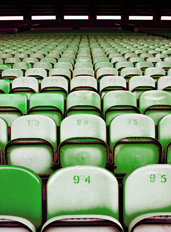 You're just minutes away from a weekend filled with sun goddesses, sparklers and grill-offs.
So, obviously, you're thinking about one thing: season tickets for the Mavs.
Meet
Rate Your Seats
, a website that rates every seat across all the major sports venues in the country, online now.
Think of this as a friend who has sat in literally every seat in every stadium in the country (and has the blisters to prove it).
So tonight: Rangers vs. Marlins. (We know things aren't exactly like last year—so far—but you're loyal.) Say you're heading to the game, and you need a section where it's okay to spill a beer or think about tossing the occasional nacho at blue.
You'll jump on this site and type "Rangers Ballpark." Here you'll see reviews broken out by section. So you'll look at the ratings for crowd and proximity to food/drink (for those aforementioned nachos), and read the comments. Finally, after scouring the data, you can view the precise perspective from the seat. If everything meets your standards, you can be directed on where to buy tickets.
Unless you're just using W's seats.