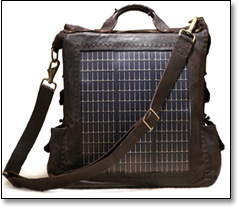 We love going green.
Provided it also means going luxury, convenience and beauty.
Our latest pickup to meet all of the above: the new solar-powered Logan messenger bag from
Noon
.
Noon's fall line of renewable-resource bags sold out sensationally quickly, and its spring/summer line is available now. The chocolate and olive Logan bag is our favorite (despite its being technically called a "satchel"). Like all of Noon's bags, it features a large solar panel on one side and an internal battery pack that, when connected to your iPod or cell phone, will fully charge them in about 6-8 hours (sun permitting), allowing you to traverse the city without concern for waning electronics or an abused planet.
Like that wasn't green/rare enough, Noon's bags are made of untreated hemp and cotton canvas, and they use an ancient Japanese dying method called Shibori, which soaks the materials in a natural dye bath for up to three days (beat that, Manhattan Portage). Plus, their leathers are tanned with rhubarb and walnuts rather than chrome, ensuring biodegradability and a more luscious feel.
With all this going for it, it might even make the perfect Father's Day gift.
Been a while since Papa got a brand-new bag.