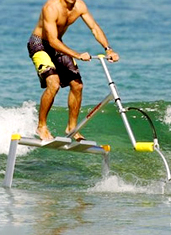 So. Here we are. Almost halfway through summer.
And while you've already accomplished a lot—that softball league MVP trophy really completes your mantel—you still haven't done everything you wanted.
For instance, you haven't walked on water.
Yet.
Introducing
AquaSkipper
, a new go-to for your many, many hopping-on-water needs, available now.
Yes, this is the leap-powered watercraft you've lusted after for years. (Okay, maybe
lust
is a strong word, but still.)
Think of it as a thoroughbred that doesn't need food, stables or love. It comes to you via the Australians (naturally) and appears to be modeled after some sort of water-based kangaroo. (We can only assume it's the subject of legend down there.) It's simple, really: just two narrow hydroplanes, a set of handlebars and a fiberglass spring that uses your jumping motion to propel it from seaside villa A to B.
So when you decide it's time to get serious about creating a new Olympic sport—or just feel like waterskiing's getting a little easy—you'll hop on this thing. And keep hopping or you'll sink. As long as the hopping continues, you'll make your getaway at up to 17 miles per hour.
Because 18 would be outright dangerous.