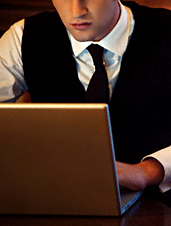 Look. We're not here to judge.
Last night. 3am. Bourbon. Your phone was just staring at you.
And you may (or may not) have sent an email... for her eyes only.
And now, you need to do one thing: explain. And then: make sure that note doesn't fall into the wrong hands.
Well, allow us to introduce
Privnote
, a site that destroys all your incriminating emails after they've been read, online now.
Think of this as the self-destructing tape recorder from
Mission: Impossible
but in email form (and without the theme music). In other words: it's how a certain former congressman probably should've communicated with his favorite Twitter followers.
And not that you would ever, ever be in such a predicament, but if you're worried that documentation of a certain message could lead to an awkward press conference, here's what you'll do. Go to this site and enter your top secret note—somehow the Coke recipe fell into your lap and you feel duty-bound to share it with someone you trust. You'll get a link, which you'll then send to a trusted friend (yes, Jon Hamm). Once he's opened the link, your message will disappear forever.
Well, unless someone took a screenshot.