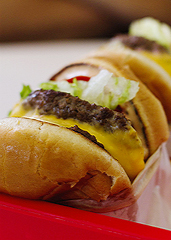 You've heard rumors. Whispers. Rumblings about hints about possibilities. And we're here to tell you: it's all true.
Simon Cowell is in town right now.
Also: In-N-Out is here, and they open tomorrow.
Unveiling the first
In-N-Out
in the Dallas loop, now ready to shock the Big D one
3 x 3
cheeseburger at a time.
You're undoubtedly familiar with the mythology surrounding this LA-born fast-food joint. You may even have, in moments of quiet desperation, journeyed out to their new locations in Allen and Frisco. But tomorrow you'll be just a quick drive—and, okay, a long wait in line—away from a couple burgers done
Animal Style
.
It's located in the old Steak 'n Shake location off 75. So where a white building with a drive-through lane once stood, there's now... a white building with a drive-through lane. But with In-N-Out's yellow arrow out front.
Come Thursday, things will be intense. Lines will be long. Burger-philes may camp out. Debates over Whataburger vs. In-N-Out will rage. But with patience, you'll make it inside to the familiar white counter. You'll choose from either the physical menu—
Double-Double
, a cheeseburger and a hamburger—or the not-really-a-secret
secret menu
. Finally, you'll slide into a red booth, bite into a hot cheeseburger dripping in mustard and possibly shed a few tears of joy.
Try not to get any in your ketchup.