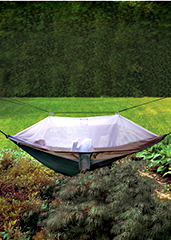 Consider the hammock. The swaying in the breeze. The nap-inducing power. The room for a plus-one.
In other words: not much to improve upon.
Or so you thought...
Presenting
The
Netted Cocoon Hammock
, combining the shelter of a tent with the joy of a swing, available now for your outdoor lounging needs.
This is quite possibly the biggest development in covered bunks since... ever. And it functions like a regular hammock: attach the two 20-foot-long bungee cords on either side to your trees of choice, climb in through the dual-sided zippered door, lie back and let the canoodling/frozen margarita drinking/appreciating the sounds of nature begin.
But what makes this thing a summertime game changer is the four-foot-high netting that blocks pests and mosquitoes. So you'll want to bring this on your next Everglades camping adventure or to that Fourth of July barbecue at your friend's urban farm in the Design District.
They never have enough bug spray.