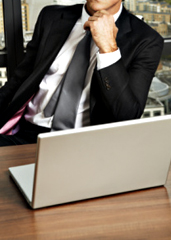 Bud Fox.
There was a guy who could have benefited from a little crowdsourced fiscal advice beyond what Gordon Gekko offered.
You're the same. Good with money, but could use a little help. From around the world, let's say. Online.
Presenting
Ask the Day Trader
, a website allowing you to posit questions on different fiscal matters to a knowledgestorm of global money wizards, online now.
So say you've recently begun playing the commodities market (precious metals have always piqued your interests), and you need some tips and investing advice. Just create a free username and password, and post the question here.
Your question is fed to a global network of verified financial experts from their respective fields (stocks, futures, forex, options and yes, even taxes) who will respond to your question. The more analysis you want (say, a quick tip versus a detailed report), the more you pay. And if you're signed up as a paying monthly member, you can reject any answer you think wasn't covered sufficiently and call for a new, better one.
Oh, and if in the end you realize that you're actually an expert (you
are
well versed in off-shore tax laws, after all), you can enlist your services and start getting paid by others seeking advice.
Try not to use "Money never sleeps" that much.