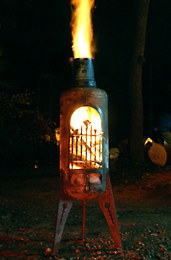 Soon enough, you'll be celebrating your independence in grand fashion.


For starters, you bought a cape.
A cape...
But all Fourth of July wardrobe choices aside (honestly, though—nice), today we'd like to focus on the fine art of lighting a fire in your backyard.
With a particular emphasis on the part about fine art...
Meet Clark Ashton, the cast-iron-tinkering, metalworking mastermind behind 16 Stoves, an Atlanta-based wonderland of handmade works of art cleverly disguised as high-concept outdoor fire ovens, available now.
Basically, this is a battle-hardened series of hand-sculpted wood-burning stoves forged from steel, cast-iron, bronze and (we assume) the souls of fallen Macedonian warriors. Yes, the devil is in the details. And seeing as you've left nothing to chance for the rest of your Fourth of July dealings, there's no reason to start by neglecting the open-flame portion of the afternoon.
So the next time you find yourself entrenched in a patriotic, poolside shenanigan-off (say, exactly two weeks from now)... you'll be ready for whatever fire-centric duties happen to call.
Someone shows up with a fistful of chocolate and marshmallows: boom, stove. You get the sudden urge to cook a 16-ounce rib eye with a stick: boom, stove. Your chicken-fighting partner suddenly gets a case of the chills:
Boom, something else.