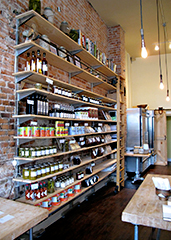 Today, we're going to tell you about something so revolutionary, it may rock the very foundations on which your life rests.
Or, failing that, at least it might give you some lamb leg and barbecue sauce for your grill this week.
So say hello to
Seasonal Pantry
, now open in Shaw to fuel whatever crazed cooking schemes are in your immediate future.
This is the first retail venture by the guys who brought you the
Sausage Club
and the
Ice Cream Club
, and you'll want to think of it as something of a cross between a butcher shop and an Amish country general store (with fewer beards and suspenders, of course).
The focal point here: a giant brick wall lined with shelves of pickled jalapeños, sweet potato butter, blueberry preserves and a secret-recipe chicken wing sauce. Beyond that, a small kitchen where soups and stocks simmer, to go in the fridge alongside fresh veggie dishes and maybe
a giant leg of lamb
.
They're still ramping up, so in coming weeks expect pork terrines, artisan bacon, veal osso buco and prepared foods like oyster pot pie and honey-lemon-thyme ice cream.
But if you want the full concierge experience, sign up for one of their supper clubs—multicourse affairs for only 10 people in the middle of the shop. Think
BBQ Salad
of black-eyed peas and roasted pork, and
Gin-Cured Salmon
.
Gin cures everything.