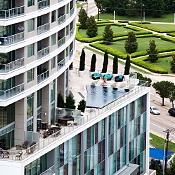 Cirque
Strategy: The lobby: guarded. The garage: wide open. Take a visitor spot. Ride the elevator to five. Hang a left, and five feet later you're deposited into the pool area.
Risk: Low—if the garage is closed, calmly wait and then follow a resident. Act like it's not your first pool stakeout.
Reward: An infinity pool that drops off over Victory Park—aka your new splash zone.