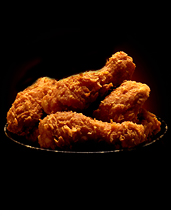 And now, a magic trick.
Take a deep breath—we're about to penetrate your mind.
Good. Now, at the count of three, you will be able to see into your future. Ready:
One...
Two...
Fried chicken.
Say hello to
LeRoy's Fried Chicken
, a deceptively simple takeout-only fried chicken spot from chef Julia LeRoy, who believes that anything worth doing is worth doing... fried (also, to perfection), slated to open mid–next week on the Westside.
So yeah, the focus and the concept here are simple. But just beneath its unassuming surface lies your justification for the inevitable lines you're about to wait in. That chicken: free-range, lard-fried, local birds from Springer Mountain Farms (by the way, that's a good thing). And that chef: a lovely brunette who cut her teeth in kitchens like Shaun's, Woodfire Grill and the Bookhouse Pub.
Which means that the next time you're craving the goods (read: always), you'll want to head over to the corner of 11th and Howell Mill and look for the small, nondescript, glass-fronted building next to La Fonda.
Head up the winding queue, step up to the order window and have your way with the menu board stacked with Southern staples like fried chicken hearts and livers, mac and cheese, collards, coleslaw, fries and buttermilk biscuits.
We're pretty sure we already mentioned that chicken part.