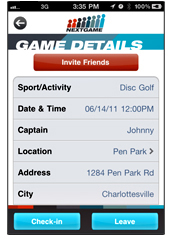 The volleyball nets at North Avenue Beach. The softball fields of Lincoln Park. That little waterfall at Diversey Miniature Golf Park.


These are your battlefields. What you need now: worthy opponents.
Introducing NextGame, an app that lets you find the nearest pickup game of any sport imaginable directly from your iPhone, available now.
Basically, it's a sportier version of Facebook. You start it. Let it find your location. Then select the sport you're in the mood for. NextGame finds the closest game of basketball, soccer, Aussie rules football, hacky sack... well, the list is long.
Some caveats: this app is brand new—in beta, really—so it's still building a user base. That means right now there are probably not a ton of baseball or volleyball games, let alone spelunking expeditions, in the vicinity. (The app plans a big debut at the Chicago Beach Soccer Festival in July.)
Right now you'll probably use this app to round up friends for your next game of streetball, badminton or poker. (Quidditch is on there, too, but the less said, the better.) Just schedule the game, specify how many people you need (and the required skill level) and post it on Facebook or invite people via email.
It's good you have Derrick Rose's email. We hear he dominates at badminton.