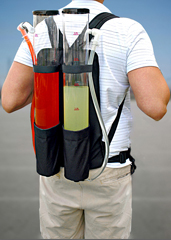 Warning: we're about to blow your mind.


Redaction to previous warning: you're actually about to blow everyone else's.
And you're going to do it in the most important way possible...
By pouring mixed drinks from your backpack.
Behold the Tailgater Dual Tank Backpack Drink Dispenser—the inappropriately long-named future of alcoholic beverage distribution mechanisms, available now.
To give you a feel for the level of responsibility you're dealing with here, it's basically a sturdy nylon backpack outfitted with two 24-inch, gravity-fed hand taps. Connected to those taps: two oversize acrylic tanks filled with the mixed drink ingredients of your choice.
Now, before we go any further, allow us to access your immediate thoughts. Okay, we're picking up something about a college flashback. One of those beer hats with dueling straws. And... a Fig Newton (not sure how that got in there, but we'll assume you have your reasons).
A valid thought pattern, to be sure. And for the record—we get it.
But we're not here to talk about the entry-level quaffing gadgetry of your well-spent yesteryears. We're here to talk about your next tippling power play on anyone from unsuspecting festival-goers (think margarita) to backyard BBQ rookie circuits (light beer in one tank, IPA in the other) to the occasional mimosa-hungry starlet at your next poolside soiree.
Oh, starlets.