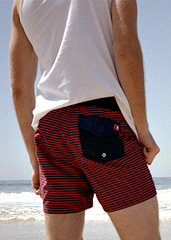 Some days you jump out of bed and can practically hear the ticking clock.
You've got meetings to manage. Sushi to chopstick. An ex to get out of your bed. It's a full day.
To say nothing about the urgency of swimsuit shopping.
Yes, the time has come to check out
The Break
—a new LA-made line of swim trunks, available now online in extremely limited quantities. Once they're gone, they're gone.
First of all, summer's here and you might've heard we have a lot of beach in these parts. So there's that. Secondly, these trunks look good—sort of retro, sort of board short-y, but cut slim and short. So next time you hit the Malibu waves, you can look like you're starring in a sun-kissed, 21st-century capper to
The Endless Summer
.
Of the five styles, you might favor the
Skiff
, covered in white sailboats, or the
red-and-blue-striped
Club Short
. (Just don't wear them clubbing.)
Of course, you wouldn't want anybody stealing your thunder at the beach, which is why only 100 of each of these styles are made. But that also means if you don't snatch a pair online before they're gone, you and your thighs are out of luck.
And nobody says no to your thighs.